Federal Revenue seizes electronic cigarettes, mobile phones and notebooks in carrier from Londrina
In a routine inspection, carried out this Tuesday in the warehouses of a carrier in Londrina, the Federal Revenue Office seized a large shipment of smuggled products, including electronic cigarettes, mobile phones and notebooks. The agency's estimate is that the value of all the goods exceeds BRL 350 thousand. If considered the final price to consumers, the material would yield approximately BRL 1 million.
According to the IRS, due to the favourable exchange rate to the real, there has been an increase in attempts to smuggle these products. A notebook of a specific brand and high demand, for example, according to the agency, can be purchased in Paraguay for approximately BRL 4 thousand. But, in regularised local commerce this same equipment is offered for up to BRL 12 thousand.
The IRS says that, lately, the Post Office and carriers have been used to try to simulate legalised "orders" and that, in general, they are accompanied by false documentation. Because of this, the agency intensified inspections in these establishments.
All seized goods, according to the IRS, will be destroyed or destined for public agencies and welfare organisations. Those responsible for the products will be identified and reported to the Federal Prosecutor's Office. The penalty for those who practice or collaborate in the crimes of smuggling and embezzlement can reach 5 years in prison.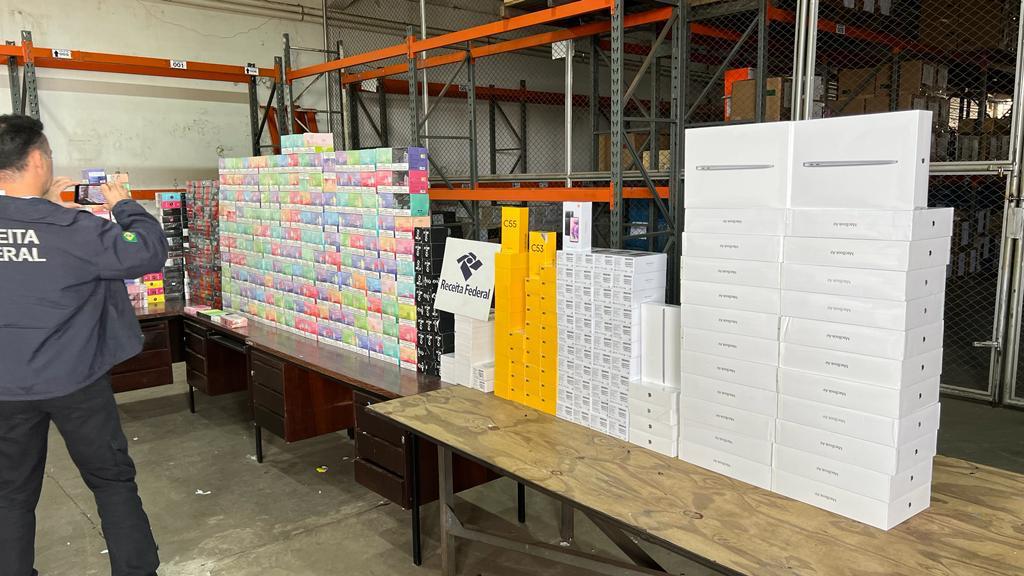 Source: https://cbnlondrina.com.br/materias/receita-federal-apreende-cigarros-eletronicos-celulares-e-notebooks-em-transportadora-londrinense
« Home